GoPro Beach Bowl 2016 = Good Times!
There was no denying the heightened excitement at today's epic battle, as crowds watched in the action-packed arena - while thousands of fans around the world tuned in via the official event webcast.
The combination of the bowl, the beach, the festival, our friends in the stands and the world's best skaters from across the generations just seemed surreal.
In a field of competitors peppered with big name internationals from New Zealand, Brazil, USA, France, Spain, Denmark and Brazil. 37 skaters thrashed it out to be crowned the 2016 the Australian Open of Surfing GoPro Beach Bowl champion.

Running across nine days from February 27 – March 6, the free and one-of-a-kind festival takes in world-class surf, skate, music and art. All set on beautiful Manly Beach, the birthplace of Australian Surfing.

"The event was a huge success with massive crowds, incredible weather and great surf. Combined with amazing skateboarding and 2 days of live music, Manly Beach was the perfect stage to bring the local community together with passionate surf, skate and music fans," said James Leitz, senior vice president, IMG.

Internationals dominated in the Pro Finals in the GoPro Beach Bowl with Rune Glifberg (Copenhagen) taking out #1 spot, ahead of Alex Sorgente (Lake Worth, Florida) and 2015 winner, Jonathan Schwan (Colorado Springs).

On a high after competing in his fourth Australian Open of Surfing event Glifberg said, "I really enjoyed coming out the Australian Open of Surfing this year. It was a great group of guys out here competing, which added a lot of different styles of skateboarding to the event.
It's been an amazing few weeks out here with my family, that helped me secure the win at the GoPro Beach Bowl competition in Manly."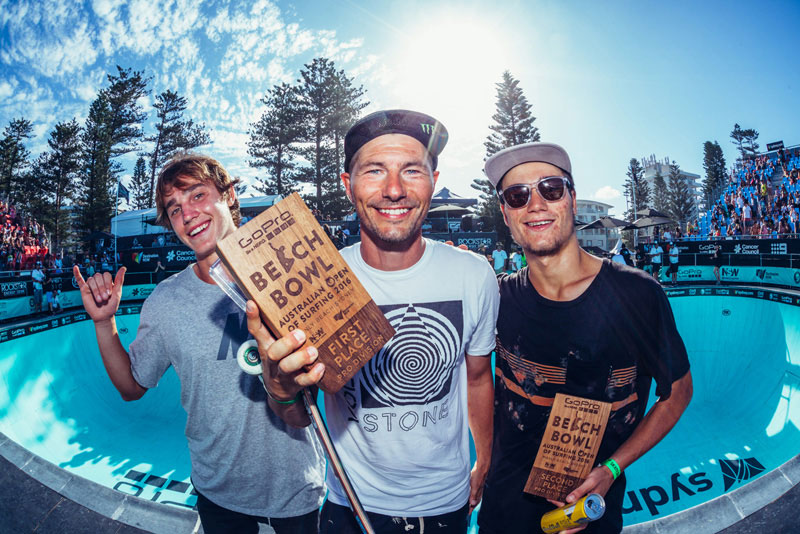 In the Masters, Australian Renton Millar (Melbourne, VIC) took top honours with Neal Hendrix (Costa Mesa, CA) and Pat Ngoho (Venice, CA) in second and third respectively.
The Australian Open of Surfing is such a great event and all the skaters look forward to coming back any time we are invited. With events like this Australia is pretty much becoming the best place in the world to compete at bowl skating. Whoever came up with the idea of putting skate bowls on the beach is a genius!" Says Millar
The best trick of the finals was awarded to Matt Katai from Bateau Bay NSW, he absolutely nailed his Kickflip to Backside Five O grind off the box Katai said, "The event was awesome, and really good fun. It was such a privilege to be part of the Australian Open of Surfing, it's surreal to have won best trick."

FINAL RESULTS 2016

PROS
1st Rune Glifberg (DEN)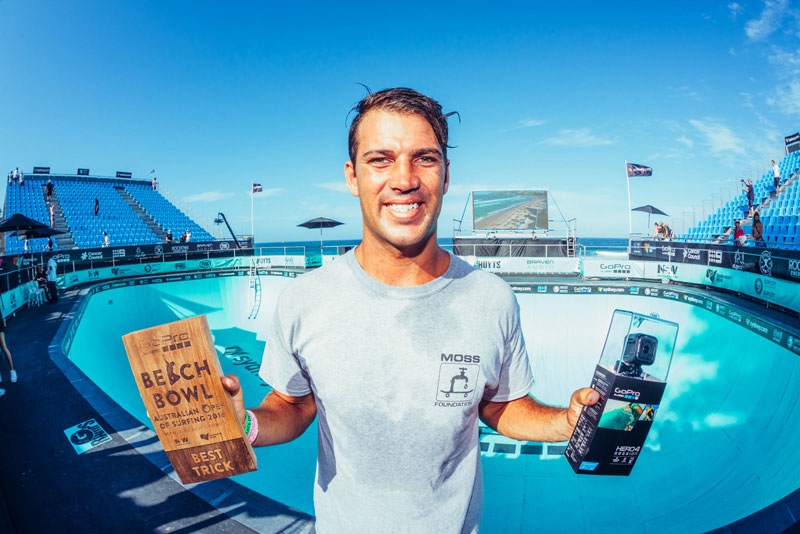 2nd Alex Sorgente (USA)
3rd Jonathan Schwan (USA)
4th Trey Wood (USA)
5th Ivan Federico (ITA)
6th Cory Juneau (USA)
7th Sandro Dias (BRA)
8th Pierre-Luc Gagnon (CAN)

MASTERS
1st Renton Millar (AUS)
2nd Neal Hendrix (USA)
3rd Pat Ngoho (USA)
4th Luke Jones (AUS)
5th Mick Mulhall (AUS)
6th Adam Luxford (AUS)
7th Chris Patton (USA)
8th John Gray (AUS)

GOPRO BEST TRICK
Matt Kitai (AUS)
CLICK HERE for complete GoPro Beach Bowl 2016 results
CLICK HERE to view the amazing Galleries from the GoPro Beach Bowl 2016
courtesy of Dean Tirkot