Friday - Sunday, June 26-28, 2015
Stravince Island, Prague, Czech Republic
$30,000 USD purse
Men's and Ladies Pro Street
Men's Pro Bowl

Once again Skaters from around the world will make there way to Prague, Czech Republic for the 21st annual Mystic Sk8 Cup. This years line up of skaters promises to be one of the best in many years. Check back for list of confirmed skaters very soon!
Live web cast here at www.AISskate.com
Web cast times...
Sat/Sun 6/27-28 1:00PM Europe
Sat/Sun 6/27-28 8:00AM Brazil
Sat/Sun 6/27-28 4:00AM California
Sat/Sun 6/27-28 9:00PM Sydney

Schedule

Friday June 26th
10:00 - 14:00 Registration and open practice
15:30 - 19:00 Street Euro pre-qual
19:00 Bands and DJs
Saturday June 27th
13.00 Street qualifiers men and ladies
17.00 Bowl qualifiers
19.00 Bands and DJs
Sunday June 28th
13.00 - 17:00 Street semi-finals
17:00 - 18:30 Bowl finals
18:30 - 20:00 Street finals
20:00 Prize giving
20:30 Bands - Mystic closing Party!
Hotels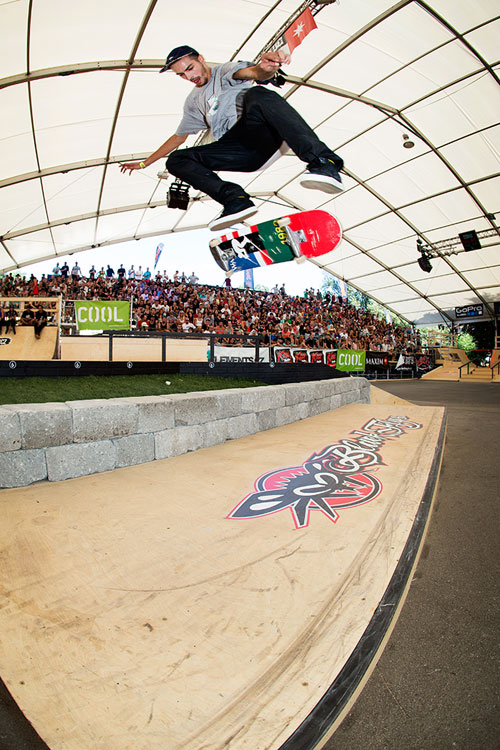 Hotel Jurys Inn ****
Accommodation in a modern hotel, directly opposite the Florenc tram and Metro station. You may book a single, double, triple rooms. Private parking, free wi-fi, a restaurant, a bar.
The skatepark is approx. 5 minutes by car and about a 10 minute walk.
Price per room from 40 Eur/person/night with breakfast.
https://www.jurysinns.com/hotels/prague
MSC reservations: This email address is being protected from spambots. You need JavaScript enabled to view it.

Hotel Karlín ***
You may book a double, triple rooms. Accommodation is in a comfortable environment with a family atmosphere. Is near the Florenc tram and Metro station. Free wi-fi in rooms with breakfast.
The skatepark is approx. 8 minutes by car and about a 20 minute walk.
Price from 24 €/person/night with breakfast.
http://hotelkarlin.cz/cz/jak-se-k-nam-dostanete.html
MSC reservations: This email address is being protected from spambots. You need JavaScript enabled to view it.
Hostel Elf
Accommodation is in dorm style rooms. Up to 9 poeple per room. A friendly hostel.
The skatepark is approx. 5 minutes by car and about a 15 minute walk.
Price from 12 €/person/night with breakfast.
http://www.hostelelf.com/
MSC reservations: This email address is being protected from spambots. You need JavaScript enabled to view it.
Pension ALICE
For riders only.
MSC reservations: This email address is being protected from spambots. You need JavaScript enabled to view it.
EXCELENT MSC 2015 TEASER from Mystic Skates on Vimeo.