Cody Lockwood on Top at Ultra Bowl 7!
Once again John Magnusson and the Bryggeriet crew have succeeded in putting on another amazing event! The decision to move the event from Stapelbäddsparken to Sibbarb was a wise one. The new park made for a fresh change. And a completely different dynamic of skateboarding. The park provides a good blend of transitions, bowls and more techie features which the skaters really loved. It was amazing to watch the different styles of skateboarding coming together. The weekend started out on Thursday with a Jump Ramp session in front of the Malmo Central Station. Super good time in the streets taking it back OG Style! From there the action moved to Stapelbäddsparken for a session in the Deep end. Kevin Kolwalski was the man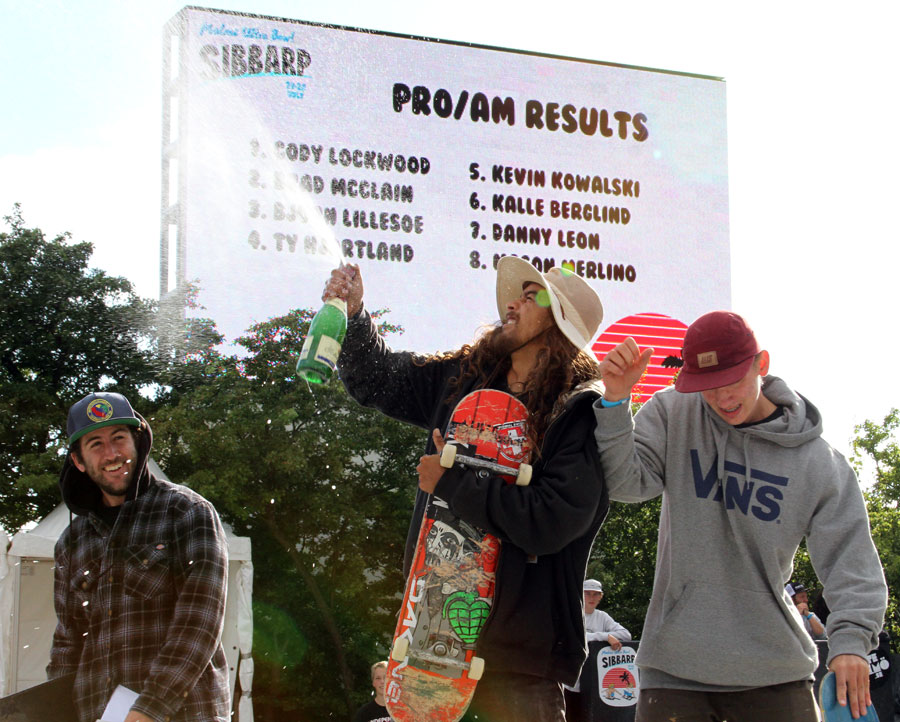 at this session blowing minds. Ben Schroader also made an appearance and ripped it! On Friday we moved over to Sibbarb for the main event. Mother Nature tried to make things difficult, but in the end, she co-opertated with us. It was 3 days of NON stop amazing ripping at Sibbarb. The skate scene is alive and well in Sweden. Lot's of really talented young rippers will be coming up out of Malmo. Congrats to the various winners... Cody Lockwood, Emma Lindgren, Herman Moller! Congrats to all the skaters that made the trip out to Malmo. It was an amazing weekend of Skateboarding! Also want to send out a positive healing shout out to Frank Shaw! Get well soon!
More pic's and video coming to our Facebook page SOON!
ProAm Top 5
1. Cody Lockwood USA
2. Brad McClain USA
3. Björn Lillesøe DK
4. Ty Hjortland USA
5. Kevin Kowalski USA
Get Set Go! Girls Top 5
1. Emma Lindgren SWE

2. Mimmi Leckius SWE
3. Tonje Pedersen NOR
4. Eugenia Ginepro ARG
5. Cloè Bernard FRA
Jr's Final Top 5
1. Herman Moller SWE
2. Felix Køppe DK
3. Gabriel Viking SWE
4. Jonas Carlsson NOR
5. Axel Källmén SWE
Ultra Bowl 7 complete results CLICK HERE
Ultra Bowl 7 Gallery CLICK HERE